And More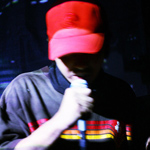 And More started making music in 2000. He makes tracks with a computer or a sampler and puts his own lyrics on them. He's a member of a DJ group called ZANKYO, which has been active on the music scene in Hiroshima since 1997.
Bhang Lassi feat. Captain Funk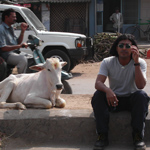 Bhang Lassi is the brainchild of Indo-Canadian singer/songwriter/producer Raj Ramayya and Japanese tabla player/engineer/producer Junzo Tateiwa. Recorded in Tokyo with live samples from South India, Bhang Lassi features a host of classically trained Indian musicians as well as Ramayya and Tateiwa. The track mixes harmonies with beats from East and West and achieves a wicked dance synthesis. Other releases in this genre have been called 'Desi Beats', 'Masala Groove' or 'Indian breakbeat' and the style is highlighted by an eclectic fusion of electronica spanning beats and melodies as well as rich east meets west atmospheres. Bhang Lassi evokes a style that hints at other Asian crossover artists like Talvin Singh, Nitin Sahwney, Cornershop and Apache Indian.
For the track 'Love Thy Brown Brother', Bhang Lassi was joined by legendary breakbeat/big beat artist Captain Funk, whose studio wizardry added a driving urgency to this dance track.
Cheryo & The Berovolas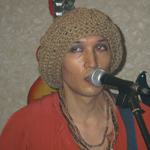 Having a first guitar at the age of 11, CHERYO started a band at 13 and formed 'THE BEROVOLAS' when he was 22. He travelled around the world and wrote songs that are inspired by different cultures. With a powerful style of singing and sound, the band stands up for political and social affairs and sends messages of Love and Peace.
The song 'Hallelujah Jambo' was written in Africa with local artists. The message is - 'like music, there are no borders between people'.
Dry & Heavy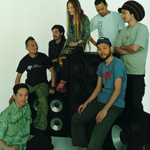 Formed initially in '91 from two members of the rhythm section of dub band 'Vital Connection' Shigemoto Nanao and Takeshi Akimoto. By '95 they had added the core members of the band 'Audio Active'- Naoki Uchida, Mitsuhiro Toike and Kei Horiguchi along with vocalists Likkle Mai and Ao Inoue. Their first release was the self-titled album on Olive Disks which came out in '97.
The follow-up 'One Punch' came out after a move to Beat Records and was also licensed in France and the UK. The band began the first of many live performances and 2000 saw the release of their third album 'Full Contact', three singles and a collaboration with dub pioneer King Jammy 'King Jammy meets Dry + Heavy in the Jaws of the Tiger'.
They appeared at a variety of festivals including Fuji Rock and handled numerous remixes of the likes of Asian Dub Foundation, YMO and Skatalites.
During the 2002 Fuji Rock Festival bass player Akimoto announced his departure from the band but they remained busy with festival appearances and remixes. In November of the same year, recording began on their fourth album 'From Creation'. Further singles were released and the album made its eagerly awaited appearance in July of the following year. Next year will see the band continuing their many ventures and they'll also be busy in the studio recording for future releases.
Hope (ft. Mon and Shirin)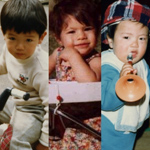 HOPE is a member of the label Neotechnique. He produces Techno, House, New school breaks. The talented beat designer splits his time between Tokyo and Yokohama where he lends his talents to everything from live raves to dance and drama performances.
The rapper, who goes by the name of Mon, is Hope's brother and member of the band 'Funkamental'. His unique style of rapping comes from various genres of music, mostly Hip-Hop (and reggae), honing his skills in the Shibuya area.
Shirin is a performing artist. She has a diverse background including, Iran, Brazil, Australia and Japan. She not only wrote, but also performed the poem in this song.
Kotobuki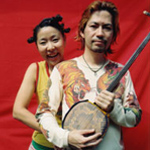 Kotobuki is a band influenced by Okinawa that has infused elements of rock, funk, reggae, soul and world music into their music. Furthermore Kotobuki is a band that sings and passes on Okinawan songs that repel and tell of the oppression that the Okinawan Kingdom's islands have experienced.
About「Shalom Salaam」
Shalom is the Hebrew word for peace, and Salaam means the same in Arabic. Rami, a young Palestinian man, and Keren, a young Israeli woman, met on the Peace Boat in the year 2000. At first they were apprehensive of each other, but slowly they got to know each other, became friends and developed a strong bond. They also wrote a song called 「Shalom Salaam」, on which our song is based. We valued deeply the fact that they sang together about 「Peace」 in their respective languages, and not just about their encounter or friendship.
We felt very honored to be present during that special moment, and felt a strong inspiration to share that experience with more people. That was how Kotobuki's own 'Shalom Salaam' was born.
KP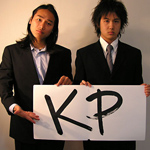 KP: Stands for Korean Power, Pride and People. Born in Japan with Korean roots.
Liyoon (born: 1982/1/18)
Third generation Korean Japanese. Lived in the UK for 6 years and came back to Japan in the year 2000. Got to know his partner Funi through a professor of his University.
Funi (born: 1983/5/6)
Grew up in an environment where his father is Korean Japanese and his mother is Korean. Stayed in Korea for a year in his childhood.
Quante Jubila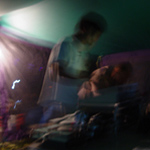 QUANTE JUBILA is bassist and producer Takuya Matsumoto and DJ/producer Young Jeff, aka PLAY LABEL A+R man Jeff Hammond. Back in 1998, a chance conversation in a Tokyo club about music and the joy of bass led to numbers being exchanged and echo boxes worked to overload.
Their first album, Quante Musica, was released on PLAY LABEL in 2003, spawning the single 'Pax Americana' - a dark, jagged funk workout containing an oblique comment on America's misguided 'War on Terror' in Iraq and Afghanistan.
Raw Rec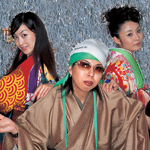 A 3-piece female hip-hop/dance unit, featuring Erin (main vocals, lyrics and songwriting), Mei and Alaijah. After releasing and collaborating on a number of compilation CDs, they released their debut single "Raw-Rec! Who?!" in 2004.
Their tracks are produced by Pete Miser, a New York native who previously performed with heavyweights such as Jay-Z and Run-DMC. By chance he heard their demo tape and was attracted to Erin's original voice.
In February 2005 Raw-Rec released their debut album "Damatte Atashi ni koi", which expressed their appreciation of music. They are continuing to play live shows in Tokyo.
Ryukyu Underground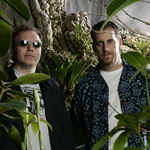 Ryukyu Underground's two members Keith Gordon and Jon Taylor met in Okinawa in 1998 and soon started putting their love of traditional Okinawan folk music together with an eclectic variety of beats and influences. They have 3 CDs out on Tokyo's Respect Records, the latest of which is 'Ryukyu Remixed' which features remixes of tracks from their first two albums by artists and remixers including Da Lata, Kid Loco, Karsh Kale, Bill Laswell and Junkie XL. Currently they are hard at work on their next release scheduled to come out in the spring of 2006 which also sees them collaborate with Toru Yonaha and Mika Uchizato as well as several other up and coming Okinawan singers.
A dub version of a single taken from the 'Mo Ashibi' album, a cover of Kina Shoukichi's 'Hana' (flower) appears on this compilation. Kina is a charismatic figure and 'Hana' is the best known and loved of his songs. It expresses a strong hope for peace, the 'hana' in the song being a flower of world peace which Kina wants to open wide.
Soul Flower Union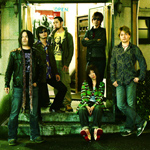 Members as of 2006: Nakagawa Takashi, Itami Hideko, Kohki, Okuno Shinya, Kawamura Hiroshi, Jigen
Formed in '93 as a fusion of two leading bands from the punk rock scene in the latter half of the late 80's 'Newest Model' and 'Mescaline Drive', Soul Flower Union (SFU) are Japan's strongest example of an alternative band mixing traditional music with soul, jazz, punk, reggae, Latin, folk and rock 'n' roll to create a unique energetic sound and celebrated live performances.
The band also exists as an acoustic unit known as 'Soul Flower Mononoke Summit' (SFMS) influenced by traditional 'ching-dong' street music. This version of the band began in '95 in response to the Great Hanshin Earthquake and played in Kobe between '95 and '97 mainly for the elderly victims of the disaster-their sets consisted of traditional, labourer, revolutionary and pre-war songs.
SFU have attempted to reach out beyond Japan for causes such as the Palestinian refugees and to countries as far a field as North Korea, Taiwan, Hong Kong, Vietnam and the Philippines. They were at the ceremony to mark the independence of East Timor in 2002 and have also performed on numerous occasions in France.
Following 9/11 and the subsequent invasions of Afghanistan and Iraq, SFU released the album 'Love Plus Minus Zero' in 2002. Continuing this theme they released 'Shalom Saddam' the following year with a strong focus on pacifism. In 2004 the single 'All Quiet on the Far-Eastern Front' was released and they continued to promote anti-war sentiment and the turmoil of laughter and tears among mankind.
Their live performances are heralded as the ultimate events in Japan and their latest releases 'Lorosae Mon Amour' (SFU) and 'Deracine Chindon' (SFMS) look set to be recognized alongside their other masterpieces.
Unused (ft. Nao)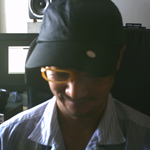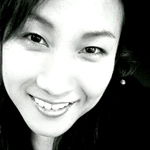 UNUSED were originally formed by Tashima, Nakamura and Shige who had all been active in the underground music scene in Hiroshima since the late 90's. KZ, Doikel and Kut Operator joined the crew in 2000.
They remixed NXS, the famous jam band led by JUZU (a.k.a MOOCHY) in 2002, and then launched fully into activities in Hiroshima as professionals.
They supported a lot of artists live shows in Hiroshima - MAD PROFESSOR, LEE PERRY, REBEL FAMILIA, GOTH-TRAD, NXS, THA BLUE HERB and 1945 (kuranaka), etc.
The members come from diverse artistic backgrounds, giving their music a really unique feeling that is hard to define. If it must be described, it could be as a tribal beat with rumbling echoes from the darkness of the underground scene.
Nao Kono is a freelance photographer based in Hiroshima. She created and edits the bimonthly bilingual magazine PEACE. The magazine, soon entering its third year, attempts to explore the meaning of peace in 'the city of peace', as well as showcase artists, musicians, and events in and around Hiroshima.